Frequently Asked Questions
For a Printable PDF Version Click Here
What platform will be used for the event?
The event platform is InEvent. This is a web-based platform. Please use Chrome as your browser.
How do I update my profile?
Click on the 'My Profile'' tab
● Click 'Edit' on the right-hand side
● From here you can update your profile picture, edit your name and position
● Your details will not be saved unless you click 'Done' so please remember to do so!
How do I navigate through the platform?
Click on the 'Virtual Lobby' tab
● From here, you can click on the different dates to see what is happening on each day.
● You can then click the icons to enter the various "rooms" – the start time is listed on each icon.
● Once you enter a room, you will be notified whether the session has started or not.
● You can see a small red 'LIVE' icon beside the session that has started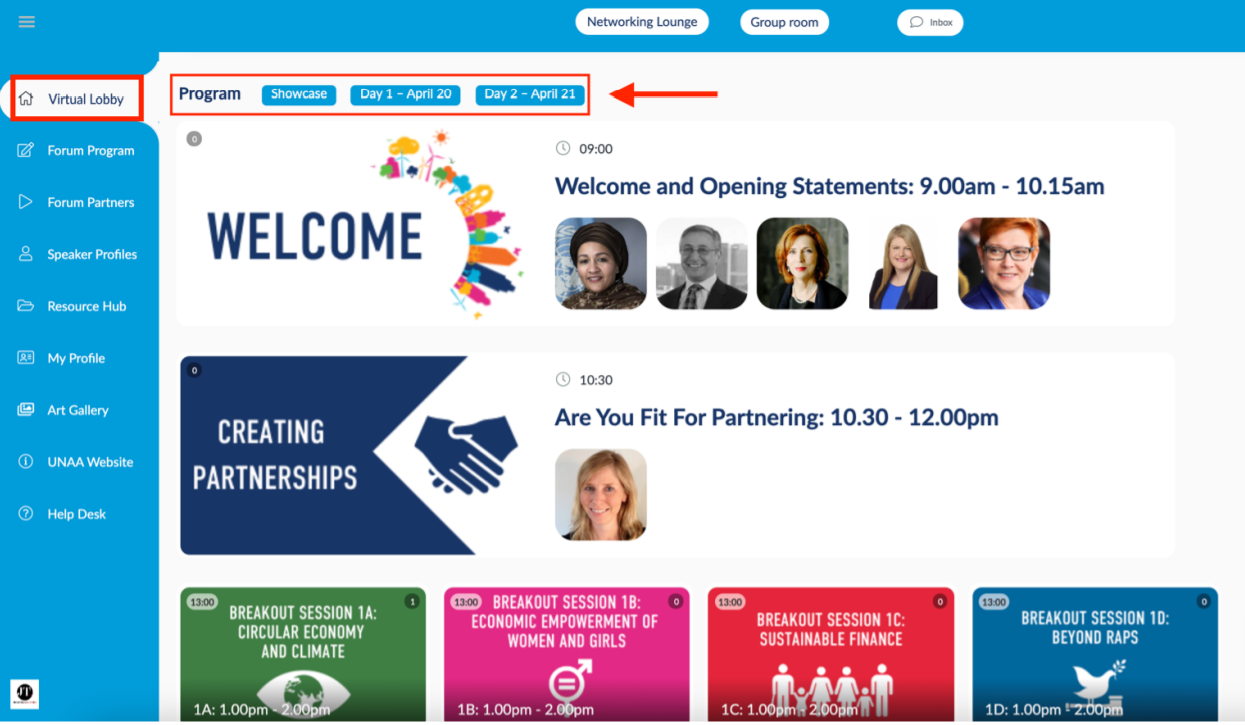 What can I do in a session?
Each session will be run slightly differently
● In each session, you will be able to pose questions using the Questions tab. The Session Host will decide to read out your question or will ask if you want to pose the
question to the audience. You will be asked to turn on your camera and microphone if you take up this option.
● You can use the Chat function to post comments and links relevant to the discussion. We have seen some excellent "side" conversations during virtual events on the topic at hand.
● Within each session, you can choose to chat to other delegates individually. To do this, you navigate to the People tab to see who is in the room and to select who you
want to chat to privately or arrange to catch up with later. To chat privately, click on the attendee's name and select 'send message'
● Some sessions will be using the polling function – you can participate in Polls by clicking on that tab.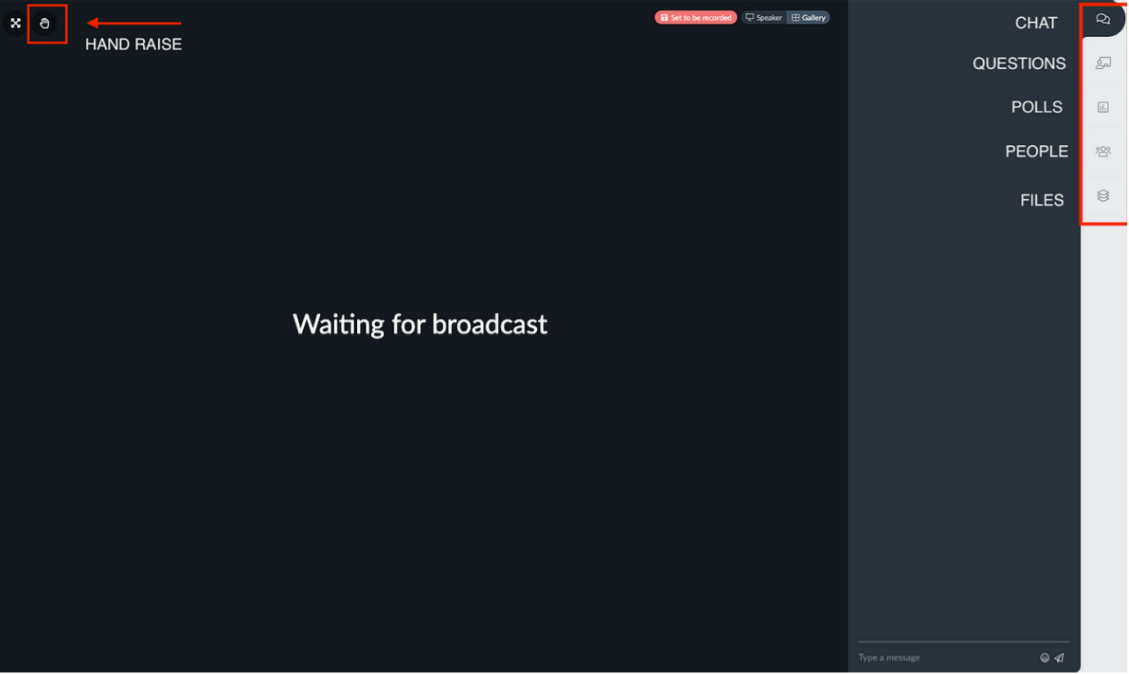 How will I know when to move to a new session?
Check the Forum Program for session times and session breaks and look out for notifications! There may be times throughout the day where the event team will send you a
notification. This will have a ping sound and will pop up on your top righthand corner. This will help remind you of where you need to go, or whether a session is about to start. You can always head back to the Virtual Lobby to see the program, and to see which sessions are currently live.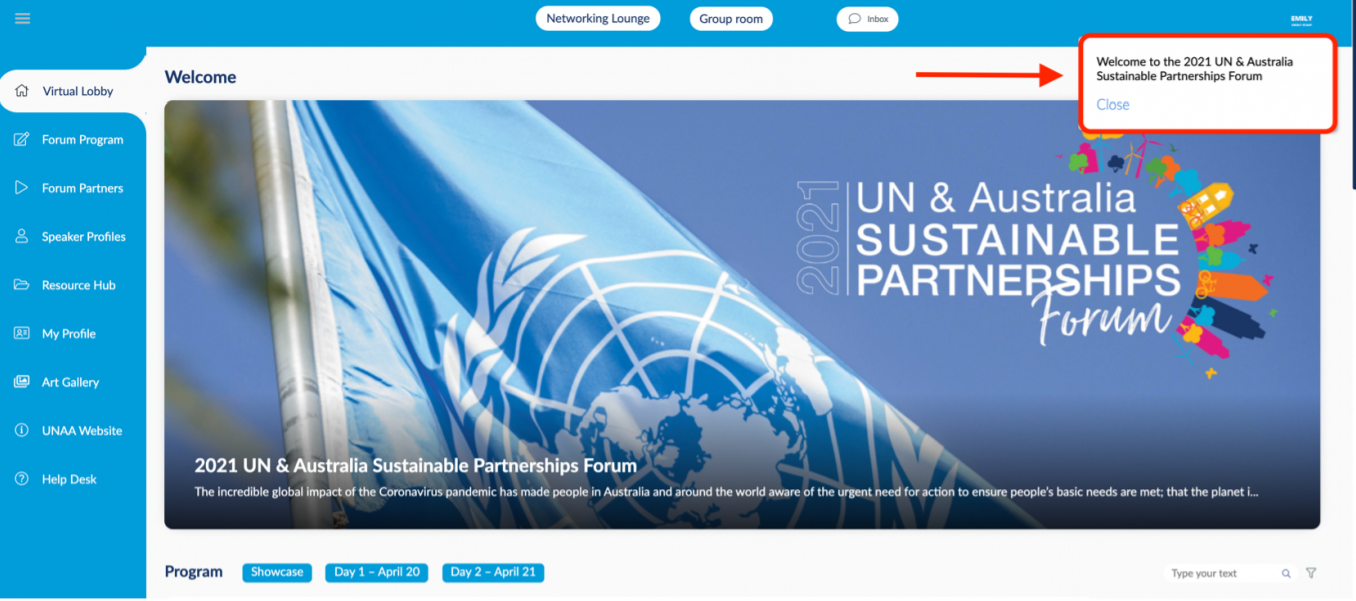 How do I connect with other attendees?
You can connect with other delegates by clicking on the Participants icon at the top of the Virtual Lobby. Click on the person's name and you can send them a message. If you have a laptop or desktop, you can also start a video chat. (This is not available on iPads or tablets) We understand that this is a very busy time for many of our delegates. Please do not feel obligated to reply to chat messages. We ask that all delegates take this into consideration.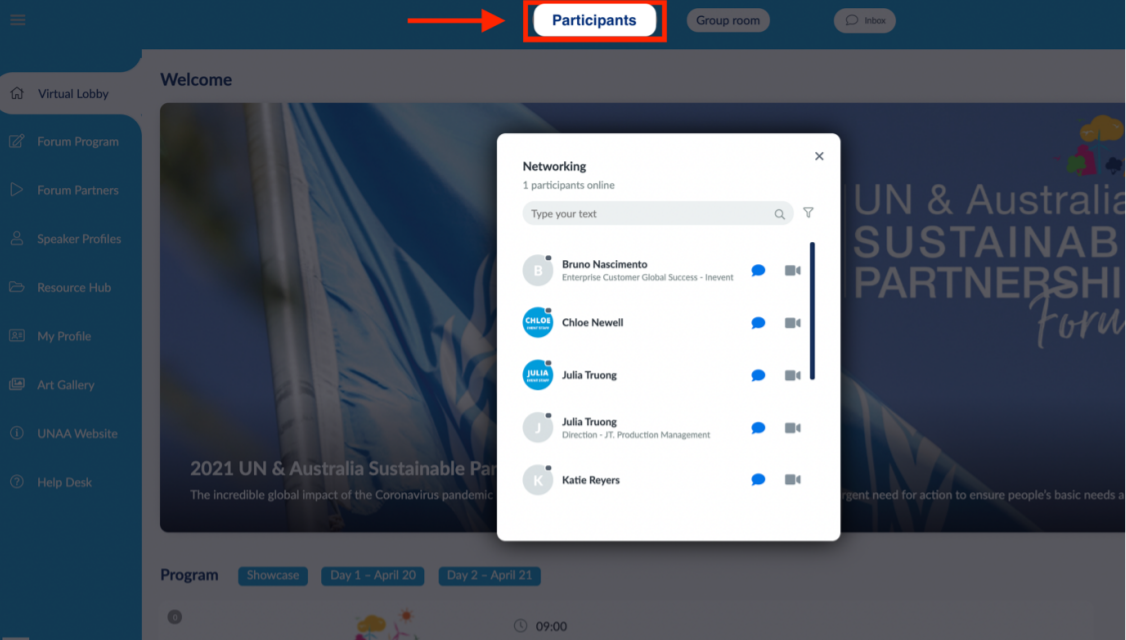 How will the networking sessions be run?
At the end of each day, delegates will also have the opportunity to connect with other attendees in our Networking sessions
Networking Day 1:
Four rooms will be dedicated ideas labs for the SDGs. Each room will be dedicated to one of our breakout streams: Climate and Planet, Gender Equality, Poverty and Inequality, Justice and Human Rights. Some pointers to get the most from these sessions:
● Bring along an idea that you want to work on or an idea you have heard during the Forum
● What have you heard during the Forum/what has been discussed that you want to keep working on?
● Perhaps you want to hear some of the ideas in streams you did not attend. Join in and hear what happened and share some of the ideas you heard in another stream that connect.
Our fifth room – The SDG Lounge – will be a more relaxed style of networking. Have a chat with others about the SDGs. Wear your favourite SDG colour!
Possible discussion points:
● What is your favourite SDG?
● Which SDG are you most passionate about?
● Which do you know the least about?
Networking Day 2:
Four rooms will again be dedicated to each one of our breakout streams: Climate and Planet, Gender Equality, Poverty and Inequality, Justice and Human Rights.
The fifth room – Looking Ahead (Pledge & Partnerships) Lounge – will be a more general space to pledge and partner for the SDGs.
• What do you commit to take back to your organisation/community?
• Your last chance to make some connections. Set up some meetings for partnerships for the SDGs.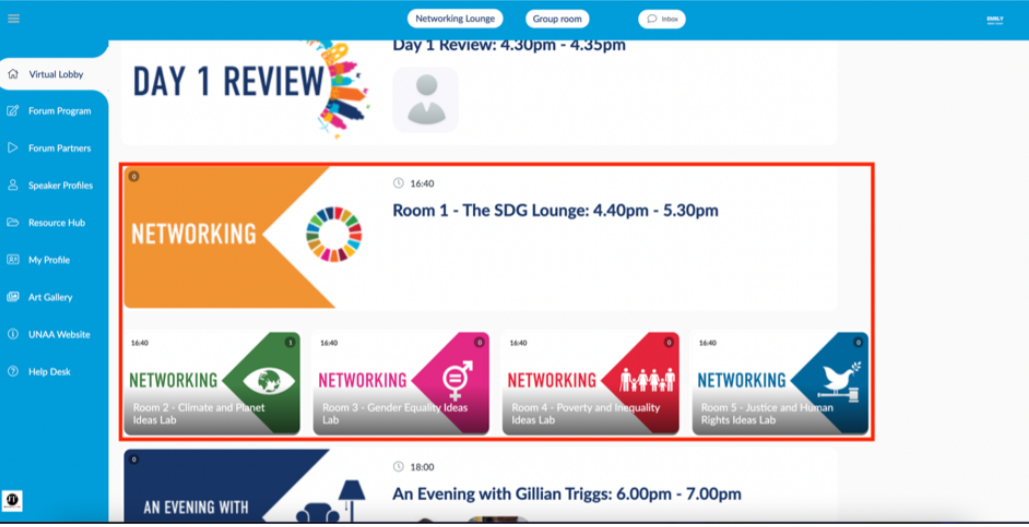 What is the Showcase?
During the Forum, a group of businesses, government agencies, start-ups and community groups will showcase what they are doing to progress the SDGs.
Throughout the Forum, you will be able to click on each Showcase and access video content and details about their work. Contact information will also mean you can connect with people from these organisations throughout the Forum.
Then, from 1pm to 2pm on Wednesday 21 April, you will have the opportunity to connect with Showcasers live to please don't miss this opportunity to discuss their work with them.
You may want to discuss how you can potentially partner with them to progress the SDGs together.
What do I do if I have technical difficulties?
Click the Help Desk tab and read the Access Requirements.
If you need support outside of program hours, please contact the tech support at unaa@jtproductionmanagement.com or call us on +61 487 727 335
During the program, you can contact us using the Inbox feature in the Virtual Lobby. Search 'Event Support' and one of our team members will be online to help.