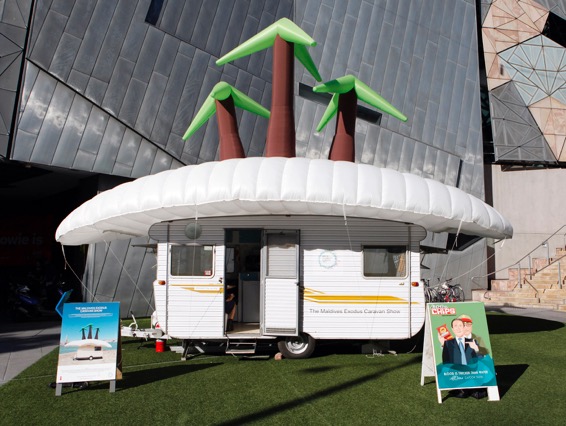 Photo Credit: Søren Dahlgaard: The Maldives Exodus Caravan Show (2015, Federation Square Melbourne, Australia) as part of ART+CLIMATE=CHANGE 2015 festival, presented by CLIMARTE.
Striving for a Sustainable Forum 
We are committed to providing a sustainable event which leaves as small a carbon and ecological footprint as possible. Sustainability is being factored into every stage of the planning and delivery of our 2021 Forum. We have outlined some of our measures below. We welcome any further suggestions!
Venue and Services:
We are very pleased to be partnering with the MCG to make the Forum an eco-friendly event as they are also committed to sustainable practices in their operations – you can read about the approach here: https://www.mcg.org.au/about-us/policies/sustainability.
From catering, waste management and recycling through to the onsite AV services at the MCG, together we have sought to consider all aspects of the venue and the services participants will receive at the venue.
Catering/Food
EPICURE at the MCG has a Food Safety policy that states says no external food is allowed into the venue. Catering is then targeted to the number of people attending so that food wastage is minimised.
We will be providing a vegetarian menu, with as much local produce as possible
Teabags are biodegradable and not individually wrapped
Sugar is in bowls not individually wrapped sticks
No straws will be used (the MCG has banned all plastic straws, crockery and cutlery)
Water jugs and glasses will be used in workshop rooms
No single use bottled water. Participants will be encouraged to BYO water bottle
Water bottle refill station will be available to participants
No mints/lollies on tables
Wastage/Recycling
Participant numbers correct for catering to reduce food wastage
Recycling for any waste from participants on day. Bins will be clearly labelled – glass/paper/rubbish etc.
Any paper that is used will be recycled paper
No paper registration
Participant name-tags are reused in other UNAA Victoria programs during the year – participants will be asked to return name-tags as they leave
Any surplus food will be managed through the Stadium's relationship with Second Bite and any organic waste will be dealt with through the MCG's onsite organic recycling system – the first in an Australian stadium. 
Forum AV/IT
Onsite-AV services have been hired to eliminate the need for transporting AV/IT equipment.
Forum Publicity and Communications
All publicity and other communications to potential and subsequent participants is digital – e-blasts, e-newsletters, Instagram and other social media channels. Post forum materials will also be digital as far as possible.
Forum Event App
UNAA is using an Event App created by Invisage Creative Solution and sponsored by Wendy Brooks & Partners, eliminating the need for a printed program and other printed resources including feedback forms.
Participants will be able to use the app to access all forum information, significantly reducing the amount of paper and printing resources used
A "note taking" option allows participants to type notes and email externally
Event evaluation will also be undertaken via the app rather than by written forms
This digital platform not only increases sustainability but also facilitates engagement by providing a platform for participants to communicate and to maximise networking and partnership opportunities.
Forum Showcase
Showcasers are being encouraged to think of creative and alternative ways to showcase ideas and business practices without the need for:
unnecessary giveaways which go to landfill
single use plastics, including plastic bags
single use banners made for this event
 Forum Staffing
All staff and volunteers will be briefed about sustainability strategies during the Forum.
All staff and volunteers will be wearing scarves in pre-loved fabric to be identifiable to Forum participants
UNAA is offsetting the carbon footprint of Forum 2020 attendance for all staff and volunteers.
Forum Presenter Gifts
Speakers Gifts are to be presented wrapped in pre-loved scarves and fabric using Furoshiki methods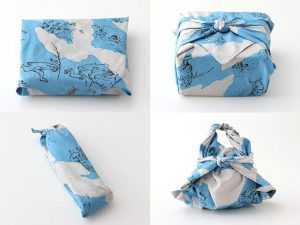 Getting involved: Forum participants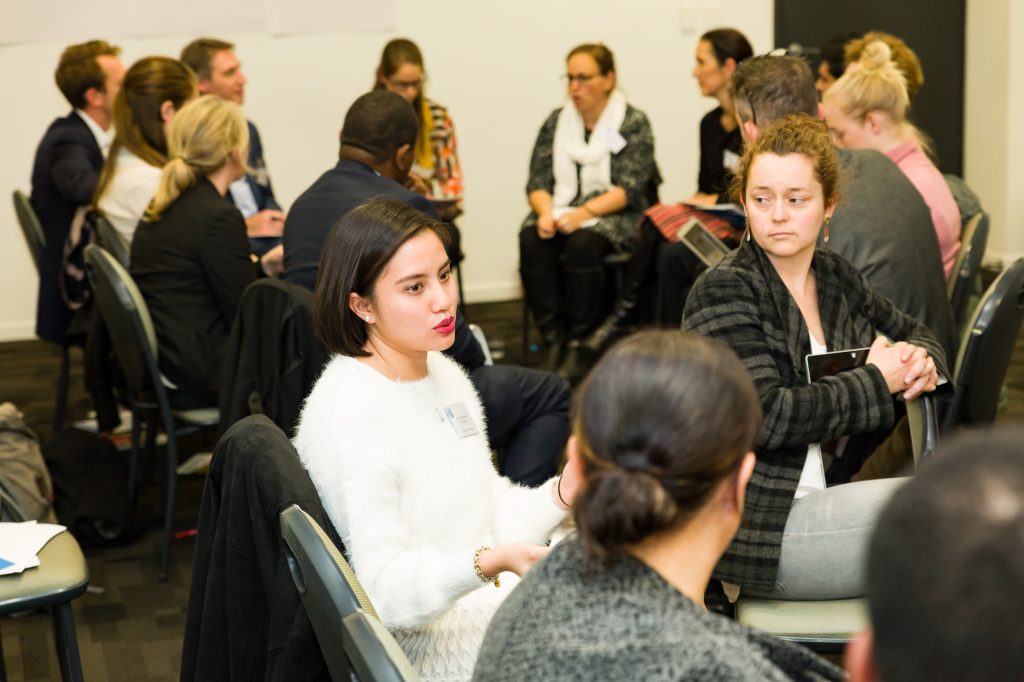 While we are implementing many sustainable features for our Forum we are also encouraging participants to also get involved in reducing the footprint of this event. 
What to bring to the event?
·      Participants will be able to use the event app to minimise paper usage, including note taking. We encourage you to come prepared with your own choice of note-taking devices – via the event app (phone or tablet), laptops or writing pads, pens
·      BYO bag – we won't be supplying Conference Bags as too many end up in landfill
·      BYO water bottle – there will be a water refill station in the atrium and jugs and glasses in the workshop spaces.
Getting to the event
Consider how you will travel to the event. The MCG is highly accessible by tram and train and is in easy walking distance of the city. If you are traveling by plane, car or motorbike, consider carpooling or ride share and consider offsetting your travel. You can offset the cost of your transport or ask your employer to offset the cost of your travel to the 2020 Forum through Green Fleet
UNAA acknowledges that offsetting does not result in emission reductions, but is a transitional strategy towards a zero emissions future, where clean infrastructure investment is prioritised.